Harry Lintell interview
13.02.2015 -
Exclusive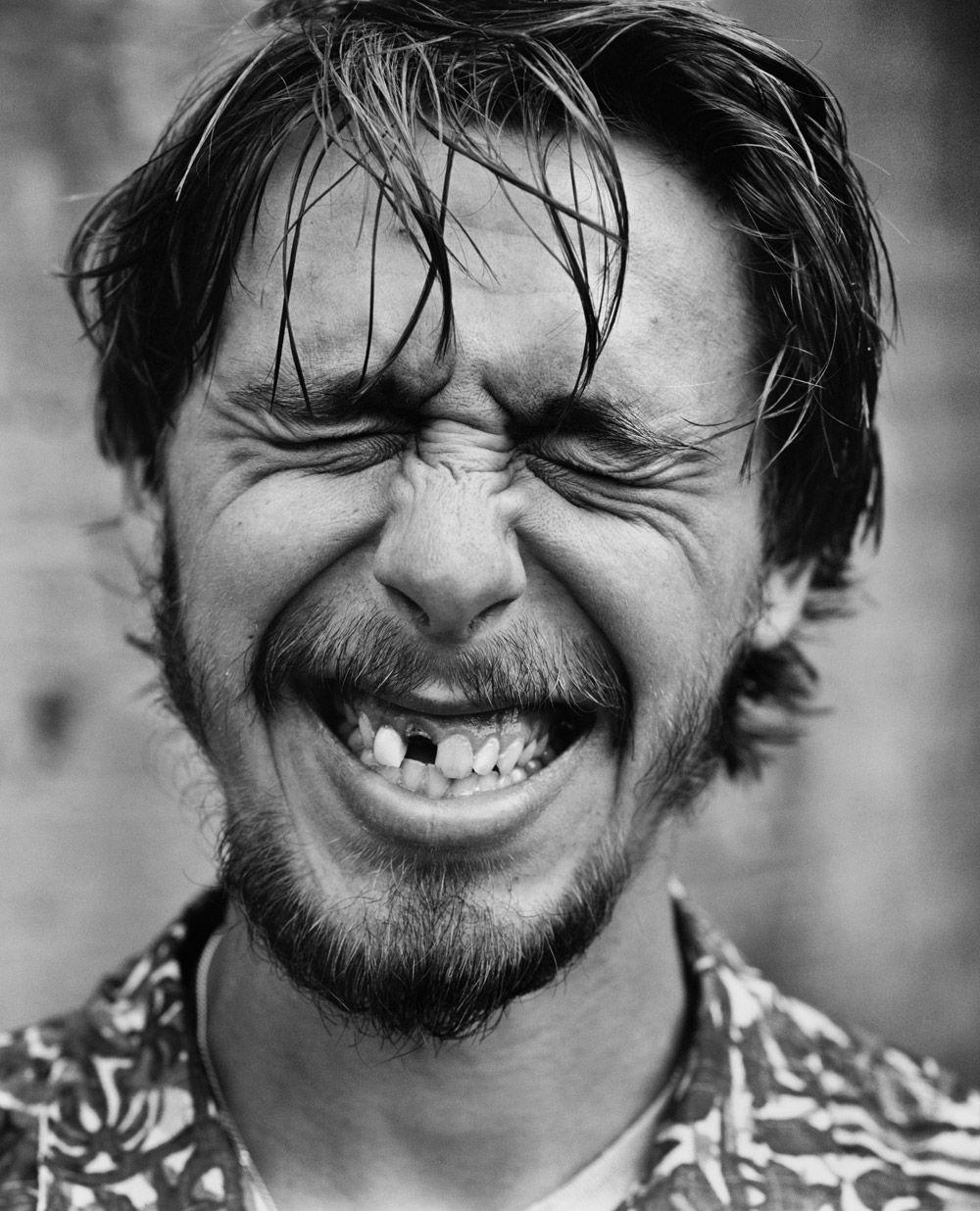 Portrait: Lex Kembery
Interview: Henry Kingsford
Note: When this interview took place in November 2014, Harry and his housemates were still living at the Clapton Castle. They have since moved on.
What have you been up to lately?
I've been travelling a little bit – I did a trip with Thrasher – and I've been filming for a Volcom online video part.
It seems like you've been working on that for a while.
Yes, we passed the original deadline a while ago, which was unfortunate, but it's nearly done now. I've been filming with Kev Parrott and we've just been working towards making something worth putting out there, something good. We're not far off now. I just need one more trick.
Tell us about your Piff Sticks part. Wasn't that filmed in a really short space of time?
I got a new room-mate called Jack Brooks, who is a filmer, and when Kev wasn't about, I just went out skating with him. I'd try something, Jack would suggest filming it and it carried on like that. We filmed a five-minute part in a week, pretty much.
So it was a more relaxed approach compared to your Volcom part?
Yes, much more relaxed. We just filmed whatever made us feel good, rather than what we thought looked good. The Volcom part is more structured. We're taking it a lot more seriously. I wanted to improve on the Sidewalk part I had a few years ago and I think we have achieved that. The new part is longer and there are some harder tricks in there as well as lots of new tricks that I've never done before. I definitely pushed myself for this part.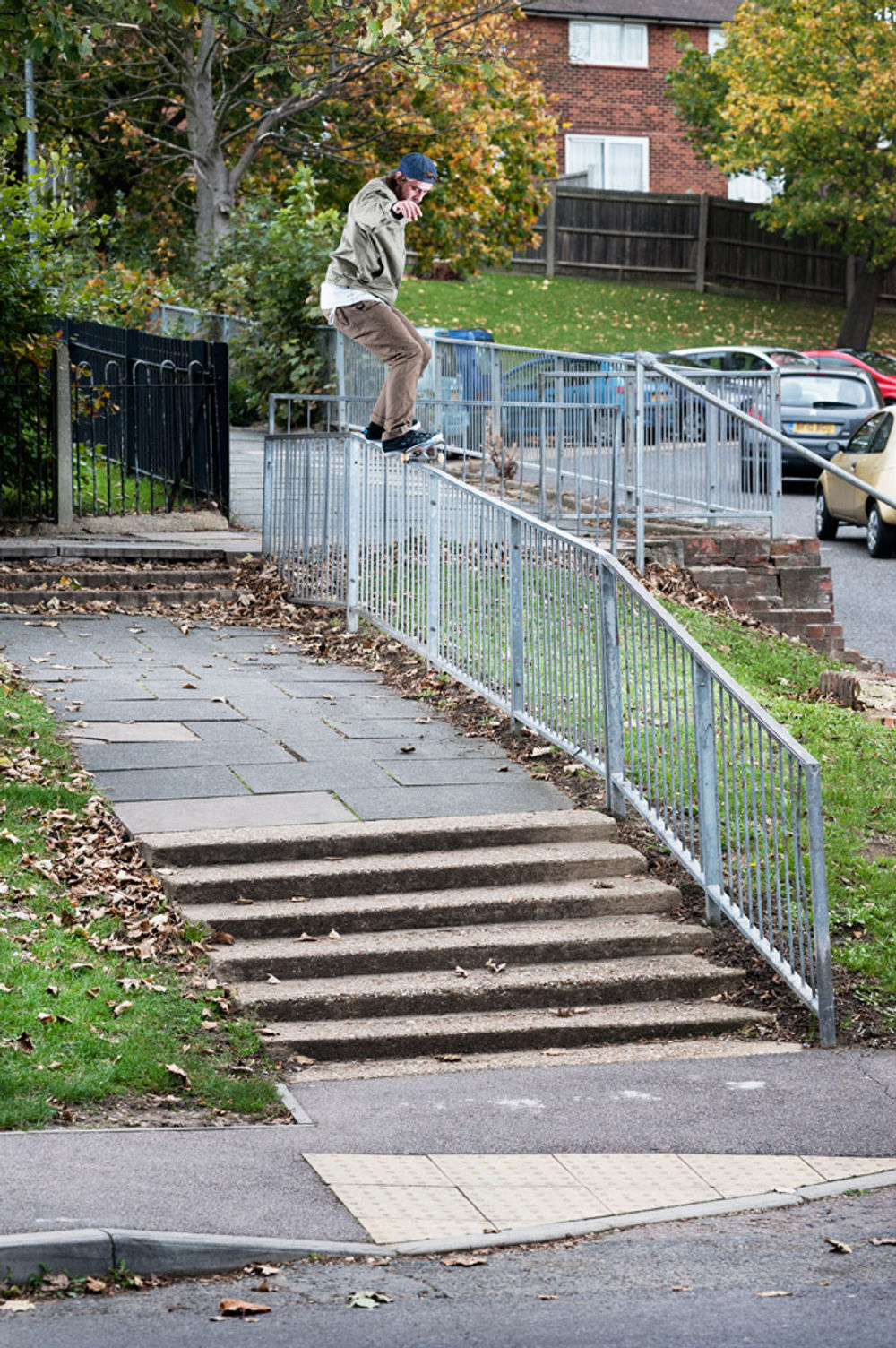 50-50, Harold Hill. Photo: Henry Kingsford.
You nearly got killed trying that kinked 50-50 out in Essex. Tell us about that.
We arrived at this rail in Harold Hill that Kev and I had seen before. I started skating it and it was going OK. Then on one attempt, I got into frontside feeble just before the last kink and fell off the rail backwards, onto my back. I fell into the road and this BMW came zooming past a couple of inches from my head. It was going really fast, at least 40mph.
Hjalte (Halberg) tried to stop him.
Yes, Hjalte said he tried to stop the driver by standing in the road, but the guy just sped up. The footage looks scarier than it actually felt. I was just on the ground; I didn't know the car was coming.
For us it was terrifying, because you were grinding down the rail quite slowly and we could see the car coming. There wasn't any way of stopping you. It was actually really lucky that you slammed and didn't land it that go.
Yes, if I'd landed it that go, maybe I wouldn't be here now.
I know you've had some problems with injuries this year. Can you tell us about that?
I have an ongoing problem with my meniscus, which is a piece of cartilage in my knee. I had surgery two years ago to fix it. They put a new piece in there with some glue and stitches, but it broke last year. This year I've been trying to get it fixed on the NHS, but it takes forever. Tomorrow is actually my surgery prep and next week is my surgery, which is not what I asked for. When I had my MRI scan, I said, "Can I please get a camera in my knee, because I don't want the repair job again. It broke last time." The doctor said, "Yes, that's fine. We'll put the camera in your knee and go from there." Then I got a letter with my surgery date for meniscus repair. They completely ignored what I suggested.
OK, so that's quite a big deal.
It's a really big deal because if I get the repair surgery, I'm out for six months, whereas if I just get the clean out – which is what I want – I'm only out for six weeks. So I'm really trying to fight them to get them to take that little piece out rather than replacing it, only for it to break again. If they refuse what I want, maybe I just won't have any surgery at all. It's a difficult decision. It's something I need to do, but at the same time I couldn't bear six months not walking again. It was such a nightmare last time. I got so depressed.
You're getting Real boards now. What happened with Superdead?
I don't really know what happened. They are still selling boards, but I'm not sure if they're reprinting any. I think it just fizzled out a little bit and maybe people outgrew the graphics. I'm still involved with those guys though, through Black Sheep. When Real offered me boards, they (the owners of Superdead and Black Sheep skate shop) were really cool about it. They offered me a place on the shop team, so I could stick around with them. They were the first people to hook me up, so I didn't want to fall out with them.
How did you get on Real and what type of deal do you have?
Real came about through Chima (Ferguson), who I had met a few times on Volcom tours. I asked him if anything could happen direct, as I wasn't down for a distributor deal. He spoke with Jim (Thiebaud) and a few weeks later they came back and said they were happy to hook me up direct flow. I've been speaking with the team manager at Deluxe, Nate Alton, and hopefully, if everything with my knee works out, I'll be out in the US next year skating with those guys. I'm stoked to be on Real. It's been one of my favourite companies since I was a little kid.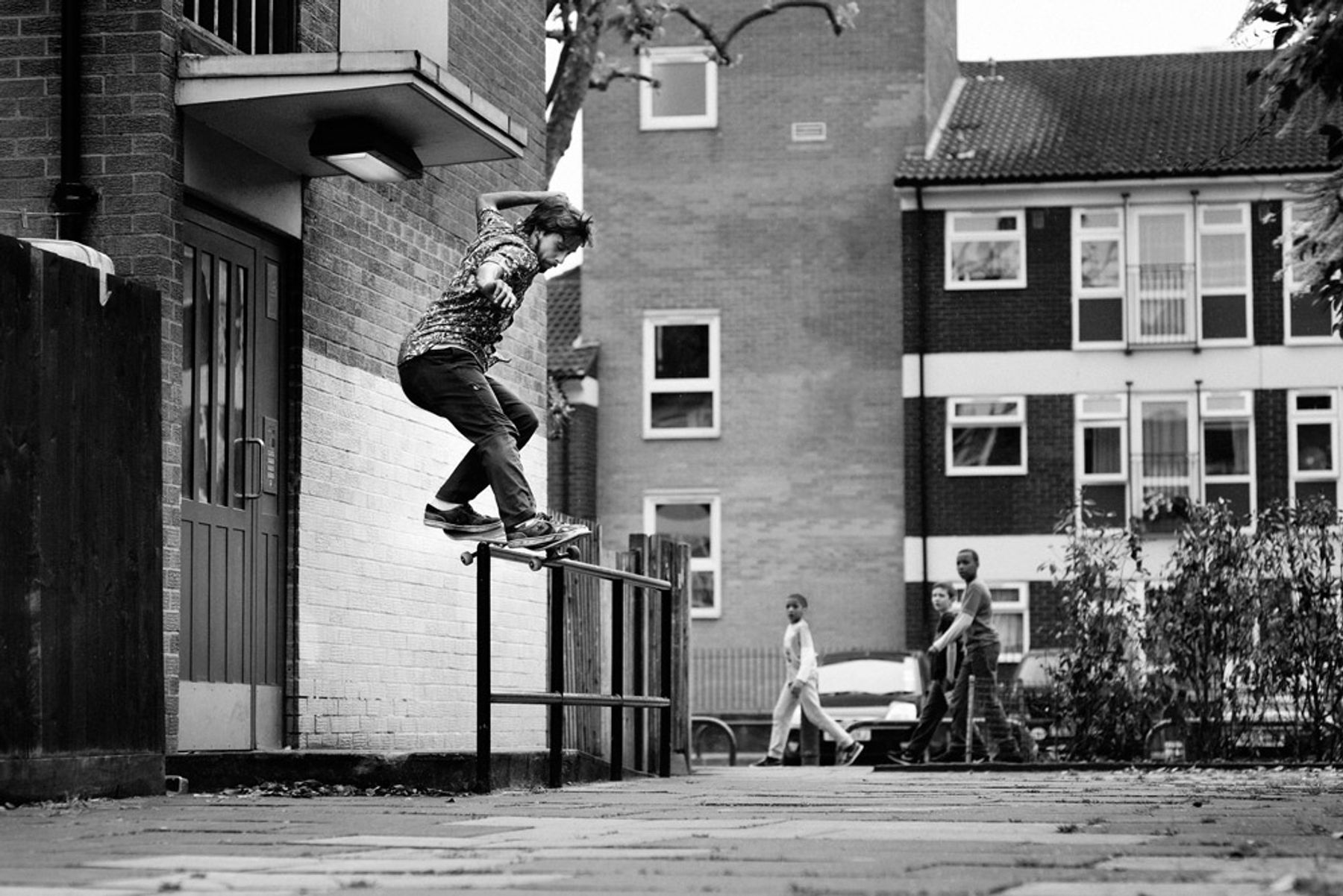 Frontside feeble grind, Mile End. Photo: Lex Kembery.
Tell us about growing up in Ashford.
It's pretty quiet. Not a lot happens. I actually only moved there when I was 11 or 12. Before that I was living in the US. My dad got a job out there when I was four, so we moved from Dartford to Allen, Texas.
Did you skate in the US?
Not really. I had a board, but no one else skated where I lived. When I got to Ashford, there was a skatepark and kids my age that were really into it. That's when I discovered what skateboarding was all about.
Did you spend a lot of time at that park?
Yes. I'd go every day after school and come home at 10pm. At the weekend I'd be out at 9am and be there until 10pm both days. I basically lived at that skatepark for six years.
When did you move to London?
It happened gradually. I used to come up from Ashford every weekend and usually I'd stay at Kev's house or at the (Clapton) Castle (skate house in east London). I ended up spending more and more time at the Castle, then I split up with my girlfriend – who was in Ashford – so I just never went home. I haven't been home since February. I just went on lots of skate trips and crashed at the Castle in between. After a while they said, "It's time for you to start paying rent. You basically live here now."
Tell us about the set up there.
It's really good. I'm definitely not complaining, because living there means I can afford to live in London. The Castle is a converted two-story warehouse and in the living room we have a 3ft mini-ramp with a 4ft extension. The decking of the 3ft section is my area. I have a folding bed and mattress and a sleeping bag. All my stuff is there. I share the ramp with Jack Brooks; he lives on the 4ft decking. It's alright. I am living on a mini-ramp in someone's living room, but I am a skateboarder and I get to wake up to skating and go to bed to skating. And all the people there are so nice. We're all friends.
And who else lives in the house?
Biko (Issah), Canadian Tom (Wilks), Karim Bakhtaoui, Morph, (Joe) Buddle, me and Jack Brooks. There are seven of us in total, two downstairs and five upstairs. It's very much a skate house, smelly shoes and boards everywhere. Buddle is the photographer, Morph and Jack are filmers, Biko is a tattoo artist who also skates, Tom is a diehard skater who works nine to five and Karim is a sponsored skater like me. He rides for adidas and Palace and he's out there skating whenever he's not working.
Do you find you skate a lot more living in that environment?
It doesn't always work like that. I thought living here, I'd be skating every day, but London is expensive. It costs £5 just to go out skating, which is insane. But I do probably skate more here than when I was in Ashford.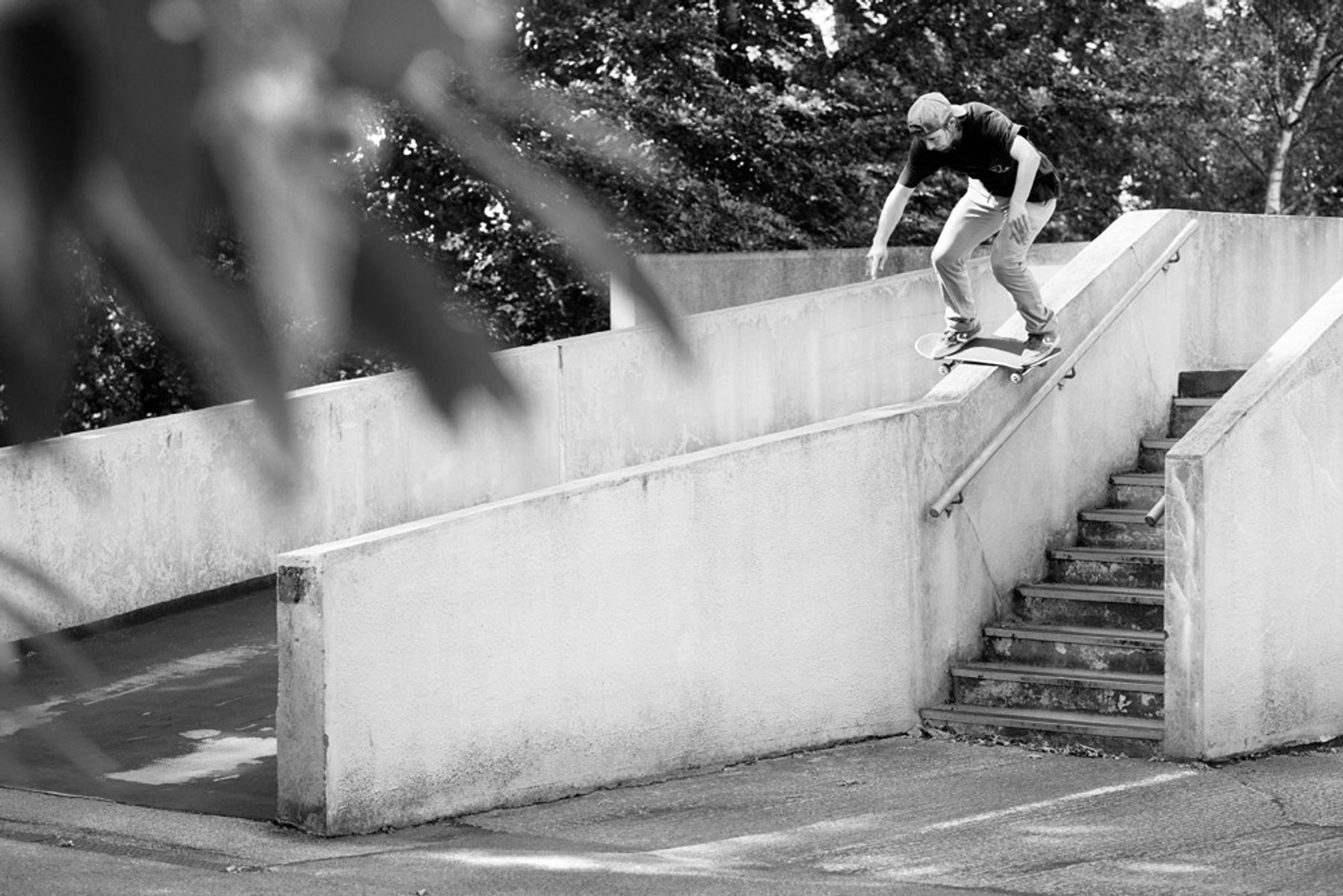 Boardslide, Hertford. Photo: Henry Kingsford.
As a Converse rider, what do you think about the Cherry effect? A lot of kids are wearing Cherry-inspired outfits these days, often including Chucks.
I'm not really caught up in all that Supreme and Cherry hype. I thought the video was amazing though. It made me fall in love with skating again. It's cool to see that kids are stoked on it to the point that they want to look like a skater from the video, but that's not me.
What about wallies and no-complies? You are known for doing either technically really difficult tricks or big, gnarly stuff. Do you think some skaters in the limelight are getting away with doing easier tricks because they're cool at the moment?
If you can get away with it, get away with it. I'm not a hater. There are a lot of wallies out there, in both senses of the word, but good on them. Skating is skating. It doesn't matter what trick you're doing. As long as it made you feel good, you've got my respect.
Skateboarding has taken you to some exotic locations the past couple of years. Which trips were most memorable?
The best trips aren't always the most exotic. For me, Berlin Spring (Converse Europe trip to Berlin) stood out. It was such an amazing trip. I'd never been to Berlin before and everyone got along. There was no pressure; it was just fun. Another that really stands out was a Volcom Europe trip to Muscat, Oman. That was just amazing. It was such a culture shock.
I heard it was unbearably hot.
I cannot explain how hot. It was really dry heat, like opening an oven door. You were dripping with sweat as soon as you stepped out of the hotel. There's no way you can skate in the day there unless you want heatstroke.
Did you guys drink over there?
You were allowed to drink in bars and hotels. If you're a tourist, they understand. But if you're a local, you can't just go out and buy drink. You have to apply for a permit.
I guess you can't wander around drunk like you would in Berlin, for example.
Oh hell no. One time we were skating a rail outside a shopping centre and I got so worked up and sweaty – I felt like I was literally going to die – so I took my shirt off in the street just to cool down and everyone was pointing at me, saying, "No, put your top on." I had to hide around the corner and fan myself down, then put the shirt back on.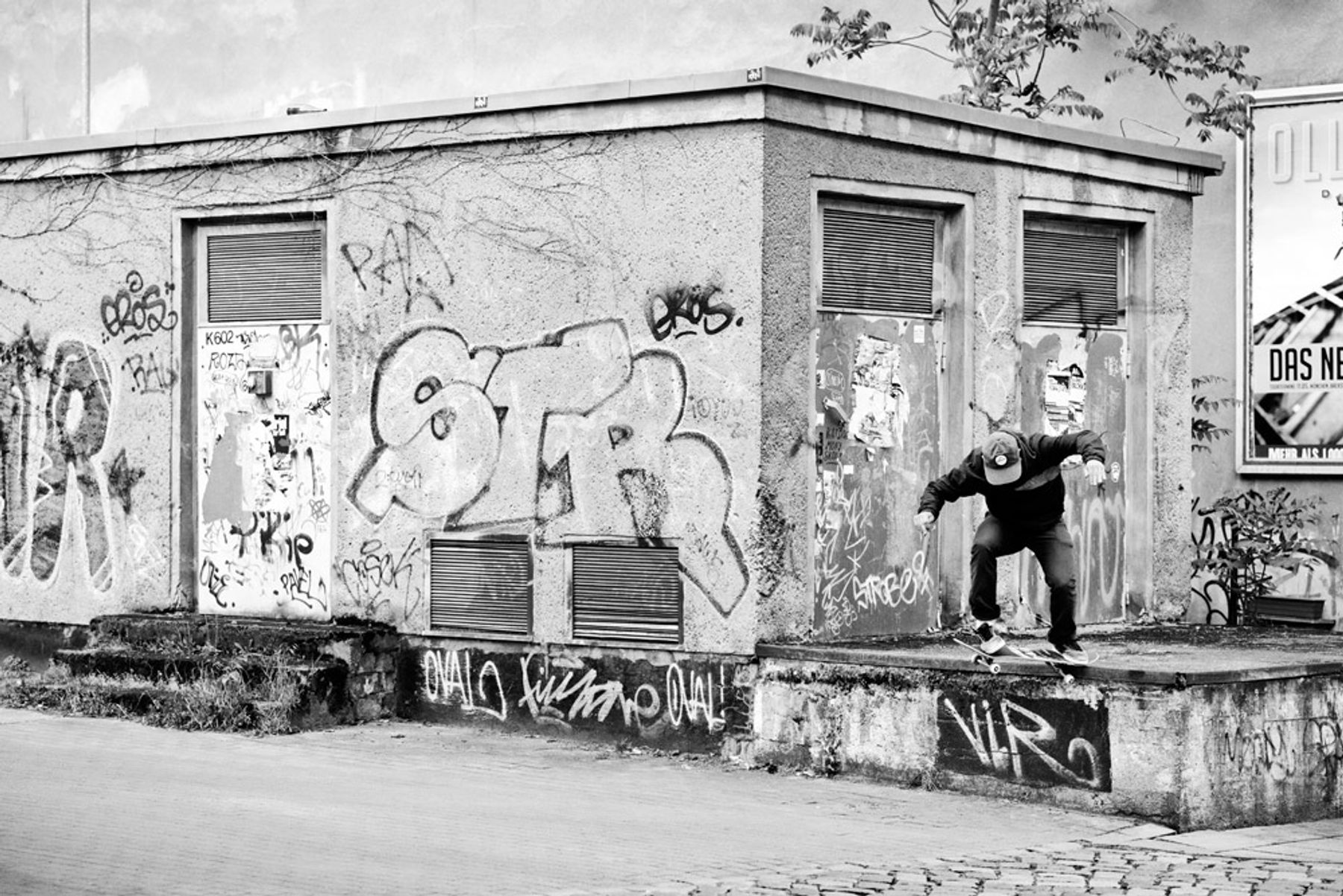 Switch crooked grind, Berlin. Photo: Henry Kingsford.
Name some up-and-coming UK skaters.
Sam (Sitayeb) from Mile End in London. He's really good, but he needs to street skate more. It'll do him good and everyone wants to see it. Charlie Munro really surprised my in Get 3. That video is amazing; those Get Lesta guys are so good at finding new spots.
It seems like all single skaters are on Tinder these days, yourself included. Why is it so popular, particularly among skaters?
Skateboarding is really fashionable at the moment; you don't get called names skating down the street any more. That's why I think skaters are doing well on there. Personally I've had some pretty crazy Tinder experiences. I jumped in at the deep end. Some girls on there are looking for boyfriends and others just want to meet up once, then never get in touch again. That's kind of weird. I'm not really that sort of guy.
Do you make a living from skateboarding?
I do. I make enough money to get by and to live quite comfortably. That's through my sponsors Volcom, Converse and Black Sheep. Massive thanks to those guys for making it possible to go skating every day. I get to do something I want to do, rather than just working in McDonalds like I used to.
What are your plans for the future?
Once this Volcom part is done and my knee is hopefully better, I'm planning to go and stay with Nate in San Diego and spend some time with the Real guys. I also want to get over to mainland Europe more. I've been stuck in England working on this video part, so I just want to travel as much as possible.